1. Japanese Beauty & Health Foods Market is Growing
Japan is the world's 3rd largest market
 Global Health Foods Market Composition Ratio
(Source: Leading Investment & Securities Co., Ltd)
The demands for Health Foods in Japan is
expanding every year
 Japan's Health Foods Market
Research from Yano Research Institute Ltd.
2. B to B Show Specialised in Beauty & Health Foods
3. Quality Visitors from Japan and Asia Pacific
At INNER BEAUTY TOKYO, you can meet your target customers as below:
・ARATA ・CHUO BUSSAN ・DOSHISYA ・IDA RYOGOKUDO ・ITOCHU ・KATASE ・MITSUBISHI ・OHYAMA ・PALTAC ・TAKIGAWA etc.
Department Stores / Mass Retailers
・AEON ・DAIMARU MATSUZAKAYA ・HANKYU HANSHIN ・ISETAN MITSUKOSHI ・ITO-YOKADO ・LOFT ・MARUI ・ODAKYU ・PARCO ・SOGO & SEIBU ・TAKASHIMAYA ・TOKYU HANDS etc.

Online Shops
・AEON.COM ・AMAZON ・CATALOGHOUSE ・DINOS CECILE ・GRAND MARCHE ・JUPITER SHOP CHANNEL ・NISSEN ・QVC JAPAN ・RAKUTEN etc.

Drug Stores
・COCOKARA FINE ・COSMOS PHARMACEUTICAL ・MATSUMOTOKIYOSHI ・SUGI HOLDINGS ・SUNDRUG ・TOMOD'S ・TSURUHA HOLDINGS ・WELCIA YAKKYOKU etc.
・AESTETIC TBC ・HOSHINO RESORTS ・HOTEL NEW OTANI ・MISS PARIS ・SHINAGAWA COSMETIC SURGERY ・SHONAN BEAUTY CLINIC ・SLIM BEAUTY HOUSE ・SOCIE WORLD etc.
(Visitors from 2020, 2021 Tokyo Show including co-held shows, and also from virtual platform/excerpts, in alphabetical order)
4. Marketing Services support your 1st time exhibit in Japan
Show Management sends out e-mails featuring international exhibitors to over 250,000* cosmetics buyers and importers in Japan & Asia.
*expected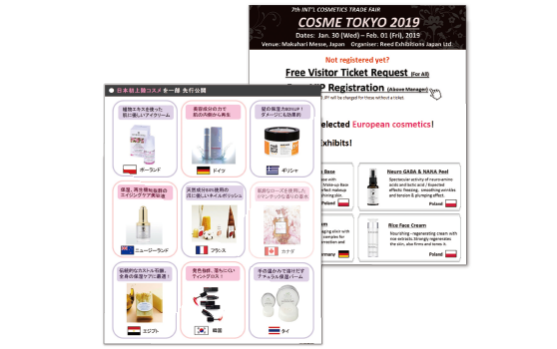 (sample)
The Exhibitor & Product Search will have each exhibitor's company/product information listed. Also, exhibitors can link their company website to the official show website (English/Japanese).
These will maximise your pre-show publicity.
Show Management will prepare press releases covering exhibitors'  information.  Those releases will be sent out to around 300 worldwide cosmetics magazines' editors/reporters.
Show Management will invite the press to visit the show, and encourage them to cover various products and booths on the media.
Exhibit and Succeed Greatly in Japan & Asia!
The numbers of exhibitors/countries (including co-exhibitors) and visitors (including concurrent shows) on this website are forecasts. These numbers may differ from the actual numbers at the show.